Join the Longside Lake Watersports community today!
Join our exciting social media groups. Connect with like-minded water enthusiasts, share your thrilling experiences, and stay updated on the latest news and events.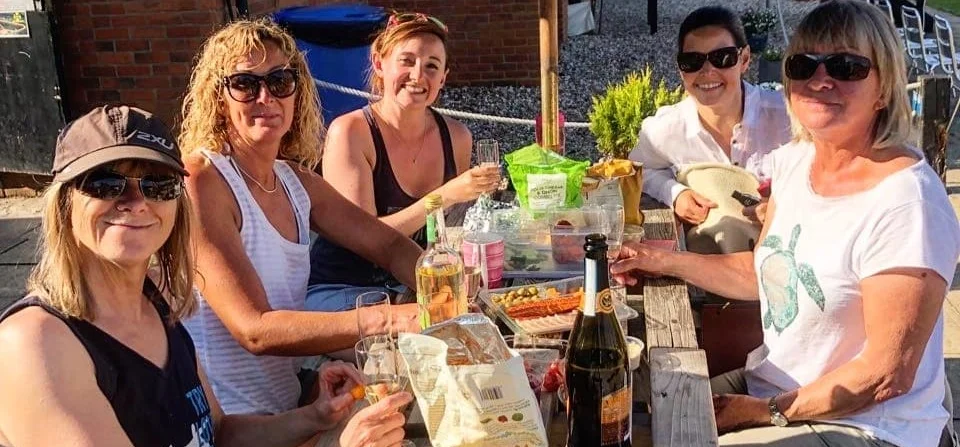 Longside Lake Open Water Swimmers

Calling all open-water swimmers! Join the Longside Lake Open Water Swimmers Group on Facebook!
Our Facebook group is the perfect place for you to connect with fellow open-water swimmers and share your love for this incredible sport.
​🤝 Join a community of like-minded swimmers who understand your excitement and challenges. From beginners taking their first strokes to experienced athletes conquering long distances, our group welcomes swimmers of all levels.
​🌟 Share your triumphs, achievements, and memorable moments at Longside Lake. Engage with fellow swimmers through stories, photos, and videos, capturing the beauty and exhilaration of your open-water swimming experiences.
📅 Stay updated on upcoming events, and gatherings. From fun race events to organized group coaching sessions, you'll have plenty of opportunities to connect with fellow swimmers and make lasting friendships. Be the first to know about changes to times to Longside Lake Watersports.
🔒 Rest assured that our Facebook group is a safe and respectful space for swimmers to connect and engage. We foster a supportive and inclusive environment where everyone feels welcome and encouraged to share their experiences.
Egham SUP Club at Longside Lake

Calling all Stand-Up Paddleboard enthusiasts! Join the Egham SUP Club on Facebook! 
Egham SUP Club Facebook group is a vibrant community of stand-up paddleboarders who wish to connect with fellow paddlers who share your love for this exciting watersport.
🤝 Connect with a supportive community of SUP enthusiasts, whether you're a beginner looking for guidance or an experienced paddler seeking new challenges. Share your experiences, ask questions, and receive valuable advice from fellow members who are passionate about all things SUP.
💡 Discover top tips and tricks from experienced paddlers who are eager to share their expertise. Learn about the best paddleboarding techniques, gear recommendations, and exciting new spots to explore in Egham and beyond.
📅 Stay in the loop about upcoming Ladies' night paddle sessions, Whole Lake SUP nights, and coaching workshops. 
🎁 Get exclusive access to special offers and discounts from local paddleboarding businesses. As a member of the Egham SUP Club, you'll enjoy exciting perks and opportunities to enhance your paddleboarding experience.